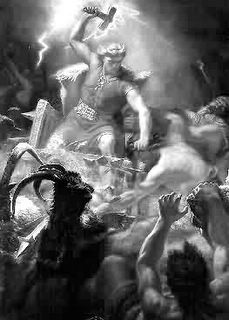 Thor/War. Isn't he just too cute? Couldn't ya just eat him up?

Dear God,
Give us this day our Daily War
, and forgive us our Peace-thoughts, as we forgive those who think them against us. And lead us not to the temptation of the Peace Table, but deliver us from Evil, forevermore, Dear Lord, Amen.
Dear God, On this Memorial Day,
please bring us more war
. Only one of my nephews is serving You in Iraq, and I have three more fresh, young bodies to contribute (another nephew and two nieces). If you'd only give us a few more wars -- say, in North Korea or Iran? -- then maybe they could go and serve You too. Amen
God societies depend on brainwashing us to adore war.
So forget about dumping war. It won't happen. Not as long as we glorify male gods.