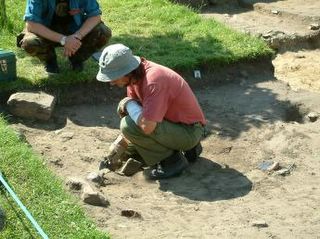 Feel the chill from that shoulder!

Leading Minoan archaeologist Nanno Marinatos
hauls her fellow archaeologists over the coals
for giving short shrift to religion:
"...[T] there has been a tendency to marginalize religion by the positivistic school of New Archaeology. Religion is elusive, it is claimed, in comparison to economy and subsistence. Statistics and quantification of data may yield more secure results than speculation on mental processes. Inherent in every attempt at reconstruction of rites is the danger of fantasy. And who can claim to understand a religion that has left no written sources behind?
"The skepticism is legitimate, but the resigned attitude is dangerous, for no ancient culture can be understood without its religion. If we reduce the study of culture to pottery classification and data quantification (with some spice from the socioeconomic sphere) the scope of the humanist may be lost to that of the pseudo-scientist."
This passage is from Nanno's
Minoan Religion
, which I give high marks for its careful and detailed scholarship. Unfortunately, copies are as scarce as hen's teeth.
Go
here
for the entire five-page excerpt.
Go
here
for reviews of
Minoan Religion
.